Kent hospitals cancel surgery due to rise in flu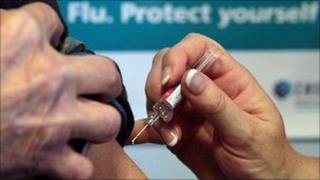 Hospitals across Kent have cancelled some non-emergency operations because of a rise in admissions due to viruses including flu.
Medway Maritime Hospital said its bed availability was "very limited" with its intensive care unit nearly full.
The hospital has written to some patients cancelling appointments.
Routine surgery has also been postponed at Darent Valley Hospital in Dartford, Maidstone Hospital, and Kent and Sussex Hospital in Tunbridge Wells.
Dr Gray Smith-Laing, the medical director at the Medway Maritime Hospital, said: "Bed availability across the hospital is still very limited.
Critical care
"The intensive care unit is full, bar one patient, the surgical high dependency unit is full and the medical high dependency unit is full.
"So we don't have a lot of a slack but we have improved considerably overnight."
Dr Smith-Laing said anyone whose surgery was postponed would have been contacted by the trust.
The NHS has urged people who develop mild flu-like symptoms to stay away from hospital.
However, elderly people, pregnant women and those with other serious health conditions should contact their GP.
Across Kent, Sussex and Surrey, a total of 51 people are in critical care beds with confirmed or suspected flu.
NHS South East Coast said the figure represented less than 23% of patients in critical care.