Wife murder accused Alan Thomas killed himself on bail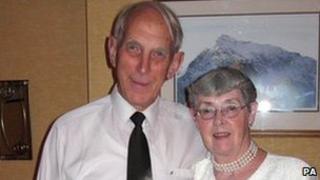 A 79-year-old man charged with murder after unlawfully killing his wife took his own life while out on bail, an inquest has heard.
Alan Thomas drowned Winifred Thomas, 77, in the bath at the family home in Gillingham on 9 May last year.
Mr Thomas, a retired chartered building surveyor, was later charged with murder and released on conditional bail.
A coroner said he was satisfied Mrs Thomas was unlawfully killed and that her husband took his own life.
The inquest heard Mr Thomas gave his wife tablets to make her feel drowsy before pushing her head under water.
He waited until he was certain she was dead before calling police and telling an operator: "I've just helped my wife to die."
Emergency services arrived at the couple's home in Deanwood Drive and found Mrs Thomas lying face up in the bath.
Forcibly pushed under
Tests revealed Mrs Thomas died as a result of drowning.
Pathologist Dr Robert Chapman said bruises found on her head could have been caused by her being forcibly pushed under the water.
Mrs Thomas had been suffering from arthritis and was unable to use her hands, the inquest heard.
Mr Thomas told police his wife had tried to kill herself several times and he was certain she wanted to die.
Discussions were held between police and the Crown Prosecution Service about bringing a possible assisted suicide charge, but the murder charge was never dropped.
The alarm was raised after Thomas failed to keep an appointment with his solicitor last 9 August.
Officers arrived at his home to find him lying dead on his bed with a plastic bag around his head.
'Act of love'
Coroner Roger Sykes said: "The evidence I have heard is a most tragic state of affairs.
"Mr Thomas, from the explanations that he gave to police, truly believed that he was doing what his wife wished."
The couple's sons, David and Graham Thomas, said afterwards that they had no doubt their father acted out of love to stop the suffering of their mother, known as Wyn.
A statement said: "It is our very clear opinion that this was an act of love and was definitely not something that resulted from negligent or criminal behaviour.
"The fact that Dad felt he could not then go on came as a further devastating blow to us all."
They added that the couple were devoted to each other throughout their life.