Family's struggle with death of postman hit by lorry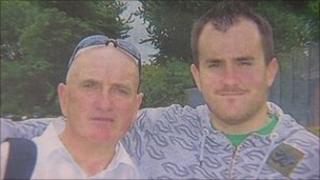 The son of a postman who died after he was struck by a lorry as he cycled to work has said his family are still struggling to cope with his death.
Mick Garner, 61, of Birds Avenue, Margate, Kent, had been using the same route he had taken for 33 years when he was knocked off his bike in May.
John Garner said his father's death had been "truly dreadful" for his family.
Lorry driver Steven Hole, 45, of Farm Avenue, Swanley, was sentenced last week to 10 months in prison.
At Canterbury Crown Court, he admitted causing death by careless driving. He was also given a three-year driving ban and ordered to do an extended driving test.
'Love of her life'
Mr Garner was thrown from his bike in Marine Terrace, Margate, and suffered serious head injuries, dying later in hospital.
His son said: "It's just been awful, it was so sudden. It was more or less overnight and my father was gone.
"My mum, in particular, is not coping at all well, and it's truly dreadful for her.
"It's the love of her life and just gone in a heartbeat."
He said the death highlighted how vulnerable cyclists were.
"One momentary lapse - it's just such horrendous long-term effects," Mr Garner said.