Drivers in Kent 'should copy Scandinavians' in snow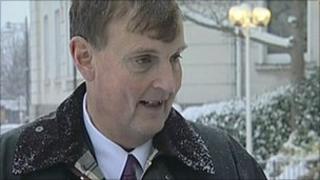 Motorists should keep their cars equipped to cope with severe weather rather than expect roads to be cleared, Kent's county council leader has said.
Driving conditions across Kent were "treacherous" during last week's snow, with police warning drivers not to travel unless absolutely necessary.
"The public can't expect to have clear black Tarmac on 5,000 miles of roads," said county council leader Paul Carter.
"I believe we have got to make sure that our cars are better equipped."
'Seriously snowy'
Kent and Medway highways officials said minor roads were icy on Monday morning but all the main roads and most secondary routes were clear.
Mr Carter said gritters were out two or three times a day on all the major routes in Kent last week and also worked through the night.
"We can't do the impossible," he said.
"The gritting lorries were out, the salt was on the road and the snow ploughs were out. They were doing their best.
"We have got to learn from the Scandinavians if we are going to go on having seriously snowy winters.
"They have a spare set of wheels with snow tyres and when the weather gets unpleasant they put them on (their cars)."
He said the cost of buying equipment to improve the council's ability to keep roads clear would cost between £10m and £15m, which would have to come from other budgets.
"Where would that get us?" said Mr Carter.
"Is this weather going to continue or could we be buying a lot of plant and machinery that is not going to be used for the next three, four or five years?
"Where is global warming going in the south east of England? Who knows? We don't know."
See more on this story on Inside Out South East on BBC 1 at 1930 GMT.