Heavy snow shuts Kent schools and causes travel misery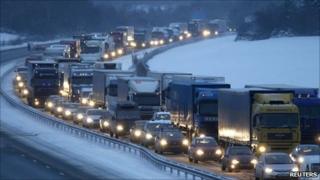 Weather conditions have worsened across Kent causing major disruption on the roads and closing at least 315 schools.
More snow has fallen throughout the day after parts of north Kent and the Medway towns saw about six inches (15cm) overnight.
The Met Office is warning that up to 10cm could fall in the county on Wednesday evening and into Thursday.
Police have warned motorists not to travel "unless their journey is essential".
Southeastern trains has put a contingency timetable in place.
BBC South East was told there were at least 100 lorries stranded overnight on Tuesday on the M25 at junction two. Many drivers pulled over to the hard shoulder to sleep in their cabs.
There have been delays on the M25, M20, A2 and A282 Dartford crossing.
Kent Police said conditions on the roads were worsening and advised freight vehicles to avoid the area.
Police said Operation Stack had been implemented, under which lorries waiting to cross the Channel park on the M20.
Both crossing tunnels have been closed at junction 30 in Essex and the A282 flyover near Bean has also been shut.
Ch Insp Andy Reeves said: "I would urge drivers in North Kent not to attempt to travel on the motorways and roads unless absolutely necessary today.
"We are expecting significant disruption on the road networks to continue due to the snow and icy conditions."
Kent County Council said highway services had 23,000 tonnes of salt held in eight depots countywide for distribution and 63 salting lorries had started treating roads.
Southeastern said trains had failed because of ice on the conductor rail and advised passengers only to make essential journeys.
Passengers faced delays of up to an hour on Eurostar services, and half of the services between London and Brussels on Thursday have been cancelled with passengers urged to check Eurostar's website for further information.
Sevenoaks District Council said parking attendants had been helping motorists remove snow from their vehicles to get them moving again and other members of staff were working round the clock despite the conditions.
The UK has been experiencing the earliest widespread snowfall since 1993.
BBC South East Today's weather forecaster Kaye Forster said: "It's set to get a lot worse before it gets better."
She said a further 10cm (4in) of snow was possible overnight with freezing temperatures making the conditions on the roads "horrendous".
By Thursday, some areas may see up to 25cm (10in) of snow with temperatures hovering around freezing.