Kent couple drive to Arctic Circle for cancer charity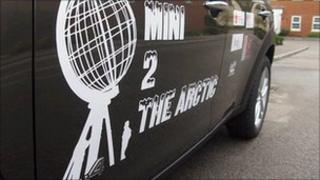 A Kent couple are driving to the most northerly point on mainland Europe to raise money for a blood cancer charity.
David Bayliss and his girlfriend Vikki Kemp, from Horsmonden, were setting off from Maidstone on Saturday.
The journey, in support of Leukaemia and Lymphoma Research, was planned after Mr Bayliss's sister was successfully treated for the condition.
She was eight when she was diagnosed with the condition but has recovered and had her first child.
Mr Bayliss, 26, said: "My sister wouldn't be here now if it wasn't for all the research that has taken place, so Leukaemia and Lymphoma Research is a hugely important charity for my whole family."
Northern lights
Their journey to the Arctic Circle will take the couple through France, Belgium, The Netherlands, Germany, Denmark, Sweden, Finland, the Russian border and Norway.
Driving challenges ahead of the pair include heavy snow, 24-hour darkness and plunging temperatures.
Mr Bayliss said many roads would be made entirely of snow and ice, and once they were in the 24-hour darkness zone the only light would be from the moon and the Northern Lights.
On Saturday, they were being escorted from Maidstone to the Channel Tunnel by a convoy of Minis on the first leg of their journey.