College for blind near Sevenoaks judged inadequate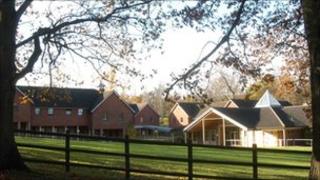 A further education college for blind students in Kent has been found to be inadequate in an Ofsted report.
Dorton College, in Seal near Sevenoaks, was judged to have inadequate teaching, learning, leadership and management.
Ofsted said outcomes for students had declined in some cases since the previous inspection in 2007.
The Royal London Society for the Blind, which runs the college, said it was investing £1m to improve standards and was now managing it directly.
Dorton College of Further Education has around 50 blind or partially sighted students over the age of 18.
The Ofsted inspection, carried out in October, found Dorton was inadequate in overall effectiveness of provision; reporting health and safety incidents; capacity to improve; outcomes for learners and quality of provision.
Building programme
Tom Pey, chief executive of the society, said all facilities at the Dorton campus would from now on be managed directly by the Royal London instead of at "arm's length", as in the past.
"I have already begun to introduce a £1m improvement plan, because only the best is good enough for blind and partially sighted children," he said.
"In particular, we have already improved our incident reporting procedures through better staff training."
At least six new jobs would be created at the campus, which also has a nursery for two to five-year-olds and a school for five to 18-year-olds.
"I am also pleased to announce that the trustees have agreed on a £400,000 building programme to improve our facilities," said Dr Pey.
"Much of the funding has been provided by an international trust, which shows confidence in the future of the Dorton campus."