Thanet wind farm base to house artists' work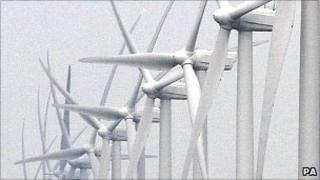 The company behind the world's largest offshore wind farm in Kent is inviting local artists to stamp their mark on its Thanet base.
Swedish energy giant Vattenfall wants artists from the area to create a piece which would go in the glass lift at its centre in Ramsgate Harbour.
Its partner, Ramsgate Arts, is inviting expressions of interest from artists who live or work in Thanet.
The work needs to be completed by February 2011.
Company spokesman Mandy Broughton said project director Ole Nielsen had wanted to involve the artists since meeting representatives from Ramsgate Arts.
The arts group will curate the project and will co-ordinate the bids.
The finished art work will occupy a 55in by 79in (140cm by 200cm) space on the wall of the glass lift that is a feature of the company's operations and maintenance base in the Royal harbour.
Ms Broughton said: "It doesn't have to be wind-farm related, but it would be nice if it was something that reflected the brand values of renewable energy and the wind farm."
Work on the £780m wind farm, seven miles off the Thanet coast, began in 2010, and started providing energy for the National Grid in May this year.
Its 100 turbines can generate electricity for up to 240,000 homes.
The company also owns the 30-turbine Kentish Flats wind farm, off Herne Bay, which was one of the UK's first such projects when it opened five years ago.