Striking Port of Calais staff hit cross-Channel ferries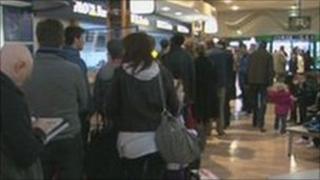 Cross-Channel ferry services and Eurotunnel services have been disrupted following industrial action in France.
Port of Calais control staff walked out in a row over pay on Thursday morning, leading to SeaFrance and P&O suspending their crossings.
Reduced services resumed after the French port partially reopened, but delays continued throughout the day.
Operation Stack, under which lorries waiting to cross the Channel park on the M20, was lifted at 1930 GMT.
'Allow extra time'
Earlier, Kent Police implemented phase one because of a build-up of traffic queuing for the Channel Tunnel.
Under phase one, the coastbound M20 is closed between junctions 11 and 12 and up to 800 lorries park on the motorway.
BBC Travel News said services run by Eurotunnel, SeaFrance and P&O were still severely disrupted on Thursday evening.
The Port of Dover and Eurotunnel are open, but passengers have been advised to check with their operators before setting off on their journeys.
Eurostar services are not affected, but passengers have been urged to allow extra time on the roads.