Maidstone Hospital decision 'not easy'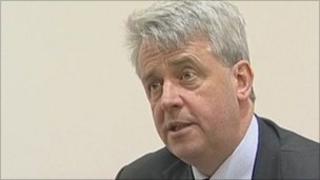 The Health Secretary Andrew Lansley has admitted the decision over planned changes to Maidstone Hospital is "not an easy one".
Mr Lansley was visiting the hospital ahead of deciding whether to move some maternity services to the new Pembury Hospital in Tunbridge Wells.
He met GPs to hear their views on the proposal, which would leave Maidstone with just a midwife-led birthing unit.
Campaigners have said the lives of mothers and babies would be endangered.
'Clinical issues'
Mr Lansley said: "We have had ten years, in practical terms six years, of decisions having been made and considerable consequences and costs flowing from that.
"I have to make a decision, it's not an easy one, between what people might have agreed if they went back to 2004 and what we have to do in 2010 in the light of what has already happened."
Dr Caroline Jessel, of West Kent Primary Care Trust, said: "Ultimately I am in favour of the proposals but I do recognise how difficult they are, particularly for people who don't fully understand the complexities of the clinical issues on the ground.
"But they have been thought about a great deal by the hospital trust."