Council steps aside in Tunbridge Wells offices row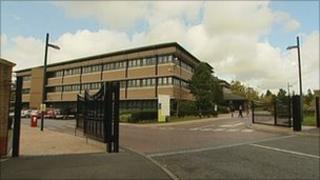 A Kent council has pulled out of a deal to buy vacant offices after a row with the town's largest employer.
Tunbridge Wells Borough Council said it had stepped aside from plans to buy the Land Registry building in Forest Road to make way for Axa PPP Insurance.
The insurance company will now buy the building and move staff in when it becomes vacant next year.
Axa said it was grateful the council had stepped aside, and the Land Registry had accepted its bid.
The Land Registry confirmed in March it would close its Tunbridge Wells operation, but the building was never put on the open market.
The council announced in July it had agreed to buy the premises with a loan from the Public Works Loans Board.
But Axa said it was the only suitable home for the 800 new staff it hoped to employ and would have considered moving business out of the town if it was unable to purchase the building.
Councillor Tracy Moore said the council had worked for months to find a solution and believed pulling out of the Land Registry deal was the right thing to do.
"We are fully committed to doing all we can to retain employers in the town and to create a thriving local economy in which they can prosper," said Councillor Moore.
"Axa PPP is a vital employer in Tunbridge Wells and we have now stepped aside to let Axa PPP further explore its expansion plans."
The council said it had hoped to bring a number of public sector organisations together under one roof at Forest Road.
But changes announced in the government's Spending Review meant that some, such as the local primary care trust, would no longer exist.
The purchase price of the building has not been disclosed.
"We are very pleased that the Land Registry has accepted our bid, subject to contract," said Axa operations manager David Clarke.
"We look forward to completing the deal as soon as possible and to occupying the building on a phased basis over the next year.
"The acquisition will be a big boost to our plans to grow and develop our healthcare business and enable us to maintain our long-standing presence in Tunbridge Wells where we have been based for over 50 years."