Disappointment as Kent rugby player cleared of gouging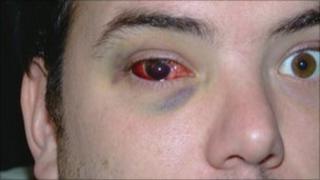 A rugby player who was left partly blind from an injury during a match has said he is disappointed another player has been cleared of gouging his eye.
It was claimed Maidstone player Matt Iles injured Gravesend player Clarence Harding in Kent in January. Police made inquiries but did not take action.
The Rugby Football Union (RFU) has said it could not be determined who was responsible and Mr Iles was cleared.
Mr Harding said he was disappointed in the legal system and the RFU.
Maidstone Rugby Club issued a statement which said if any hard evidence had emerged to implicate any of its players, then they would have been dealt with by the club.
'Life-changing injury'
He said: "I'm disappointed in the legal system and the justice system and the RFU's decision, ultimately.
"Who wouldn't be disappointed? It's not a broken bone, a broken nose. That would get fixed over time. This is life-changing."
Mr Harding was taken to hospital during the cup match between his side Gravesend Rugby Club and Maidstone RFC at Mote Park.
The number eight said the ball had been nowhere near his head when he was hurt.
Mr Iles was accused of making contact with Mr Harding's eye or eye area.
The RFU hearing found him not guilty of the offence but said the injury had been caused deliberately by a Maidstone player.
Maidstone RFC could now face sanctions as a club.
During the hearing, the RFU said it could not determine which Maidstone player had caused the injury.
RFU disciplinary officer Judge Jeff Blackett said: "The injury to Clarence Harding was caused by a finger or fingers inserted into the eye, causing a laceration.
"The injury was caused by a deliberate act of a Maidstone player - Clarence Harding immediately alleged an eye gouge which he would not have done had it been an accident by one of his own players.
"A serious act of foul play has been committed by a Maidstone player. "
He added: "We are unable to determine who that was so we are therefore going to place our findings before the RFU company secretary and legal officer to determine whether Maidstone Rugby Club should be brought to account."
Kent Police examined pictures from the game on 17 January but decided not to take the action further because there was not enough evidence.
'Highest standards on field'
Maidstone Rugby Club issued a statement which said it was pleased to confirm Mr Iles had been fully exonerated.
It said: "Our sympathies remain with Clarence Harding who will bear the scars of this accident for the remainder of his life."
The statement said there had already been three investigations by the club, the police and the RFU.
It added: "None of these investigations uncovered any evidence that directly implicated any Maidstone player in an act that deliberately caused the damage to Clarence Harding's eye.
"Maidstone Rugby Club maintains its stance that had any hard evidence emerged to implicate any of its players, then the player or players would have been dealt with by the club and the club would have co-operated fully with relevant external bodies.
"Maidstone has always worked closely with its local disciplinary body, the Kent RFU, to maintain the highest standards of behaviour on the field and will continue to do so in the future."