East-west Kent divide over life expectancy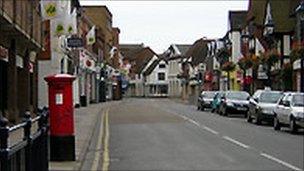 People in west Kent can expect to live longer than anywhere else in the county, says BBC-commissioned research.
The study by Experian looked at how areas of England would be affected by an increasing ageing population.
It found that men in Sevenoaks can live to 80.8 years and women to 83.5, while in Tonbridge and Malling men reach 80.1, and women can live to 84.1 years.
In east Kent, where on average 42% of the population are over 50, the life expectancy for men in Thanet is 76.5.
The research shows that the concentration of elderly people in Thanet, Dover and Shepway is at least 6% higher than Tonbridge, Gravesham, Medway and Dartford - a contrast which is set to sharpen over the next 20 years.
The researchers looked at data for district and unitary authorities in England.
Thanet is known to have pockets of severe deprivation, but Age UK Sevenoaks & District, said although the figures reflected the diversity of the two areas, there were still pockets of deprivation in west Kent.
Gillian Shepherd-Coates, chief officer, said this was despite the area being "seen by the outside world as being affluent".
A recent consultation about the future of older people's provision in Kent has been looking at plans, announced in June, which could see Kent County Council close or rebuild 11 of its 16 residential homes, or transfer some of them to the private sector, in order to save £2m a year.
Ms Shepherd-Coates said although there were no homes in her district that were closing, if closures did take place across the county "older people would need to be transferred to other suitable homes, which is unsettling and could put older people at risk".
"Also if there were no other suitable homes in the immediate locations, it could result in people having to travel a distance to alternatives."
Related Internet Links
The BBC is not responsible for the content of external sites.