'Anthrax heroin' kills drug user in Kent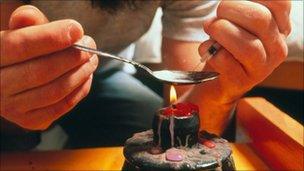 A drug user in Kent has died in hospital after injecting heroin contaminated with anthrax, the Health Protection Agency (HPA) has confirmed.
The agency said it was the fifth case of a drug user in England becoming ill with anthrax, which is a severe bacterial infection.
Health chiefs said there was no risk to the general population or even family members of the patient.
Heroin users who display symptoms have been advised to seek medical advice.
Dr Mathi Chandrakumar, the director of Kent Health Protection Unit, said it was a "sad outcome".
He added: "It is extremely unlikely that this form of anthrax can spread from person to person.
"We continue to see occasional cases of this serious infection among injecting drug users, following a cluster of cases earlier this year.
"Exposure to anthrax is now one of a number of risks that drug users are exposed to."
The HPA said it would not release details of the drug user's sex or age due to patient confidentiality.
Anthrax is a rare bacterial infection most commonly found in hoofed animals such as cattle, sheep and goats.
The HPA said there had been 47 confirmed cases of anthrax infection among drug users in Scotland since December 2009.
It said the likely cause of infection was a contaminated agent used to cut the heroin.
Symptoms of anthrax infection include a high temperature, chills, a severe headache or breathing difficulties, the HPA said.
Related Internet Links
The BBC is not responsible for the content of external sites.