Water firm selling Mid Kent Fisheries site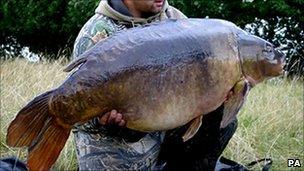 One of the largest fisheries in the UK is to be put up for sale by South East Water.
The Chilham Estate, which includes Mid Kent Fisheries, is being put up for sale in November, the water firm said.
South East Water said it was working closely with staff at the fishery to discuss future options including a management buy-out.
It said the fishery was a historical acquisition that was no longer part of its business.
South East Water said the site, which used to have water treatment facilities, was owned by other water companies before it was acquired by Mid Kent Water, which developed it as a fishery in 1991.
Asset director Paul Seeley said the recent merger between South East Water and Mid Kent Water had led the firm to look at what the key activities of the business were.
Mid Kent Fisheries manager Chris Logsdon said he had been given first refusal on a sale and the situation was amicable He added he was 99.9% sure a buy-out would go ahead.
Mr Logsdon, who has run the business since 1991, said Mid Kent Fisheries was among the three largest in the country.
It used to be home to Two Tone, a mirror carp thought to be one of the UK's biggest freshwater fish, who died in August.
Related Internet Links
The BBC is not responsible for the content of external sites.