Two new fire station sites sought for Medway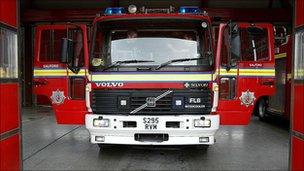 Sites for two new fire stations in Medway are being sought as part of a shake-up of the fire service in Kent.
Kent and Medway Fire and Rescue Authority said the new stations would ideally be sited at Brompton in Gillingham and near Rochester Airport.
It said that once sites were identified and new stations opened, the existing Medway Fire Station at Watling Street, Gillingham may be closed.
The future of Chatham and Gillingham fire stations is also in doubt.
The proposals are among a series of recommendations for the service up to 2020, approved on Monday, which will now go out to public consultation until 17 January.
"These are exciting plans which are based on a huge amount of analysis of incident data and fire risk as well as the expertise of our own staff," said Kent Fire and Rescue Service spokesman Steve Jeffery.
"The public should have confidence that we are making sure that we are able to match resources to risk so we can deliver an even better service in the future."
Another new fire station is also planned for Ramsgate as part of the Towards 2020 recommendations but Thanet's fire station at Westwood Cross would be decommissioned and sold, along with the old Ramsgate station.
As well as changes to the fire stations, Kent Fire and Rescue Service said last week it was considering stopping responding to every automatic fire alarm (AFA) from 2012 unless there was evidence of a genuine emergency.
It also wants to move retained firefighters to part-time contracts, giving them the same rights as full-time crews and cut 40 administration jobs.
It is estimated the changes will save £4m each year for the next four years.
Related Internet Links
The BBC is not responsible for the content of external sites.