View of Shoreham Cross restored in Kent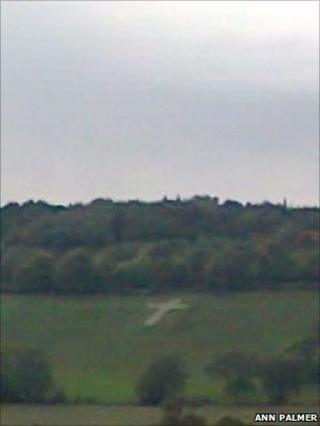 When Richard Ewing was a boy, he remembers his grandfather attending memorial services at the famous chalk cross on the top of Shoreham Hill.
Samuel Cheesman was one of the men who created the 100ft (30m) landmark in the 1920s in memory of villagers killed during World War I.
But for more than 20 years, Mr Ewing, 86, has been unable to fully enjoy his ancestor's gift to the village, near Sevenoaks.
The original sightline, from the village war memorial to the cross, has been completely obscured by trees.
On Thursday, Mr Ewing joined residents at the war memorial as a project to recreate the original view nears completion.
He said: "It's mentioned on the war memorial for you to look at the cross on the hill, but that was in 1920, the trees have gone up all over the place and you can't see the cross."
During the First World War, Mr Cheesman lost both his sons, Richard and Cecil.
'Completely obscured'
With the help of David Madge, the vicar of St Peter and St Paul, he came up with an idea for the chalk cross.
On 24 May 1920, the Shoreham United Brass Band played Lest We Forget as the villagers set off to carve the first stone.
It took 16 months to complete and was constructed of compacted chalk, edged with concrete blocks.
Shoreham Parish Council carries out ongoing maintenance and it has been re-chalked several times.
Ann Palmer, a member of Shoreham Historical Society, moved to the village in 2004, but was dismayed to discover the cross was obscured.
She said: "When we saw a photograph taken in the 1930s it became all too apparent that the original sightline from the memorial by the river to the cross had been allowed to become completely obscured by trees.
"It seemed daft to me that having seen it when I drove on the main road I couldn't see it from the middle of the village."
Mrs Palmer, with the help of her husband Graham, who sits on the parish council, began a campaign to restore the view.
She raised more than £2,600 to carry out the work and obtained permission from Sevenoaks District Council, which owns the land.
She said the villagers felt the benefits of restoring the original sightline outweighed the loss of the trees.
"The cross on the hill is a landscape feature and the village is known as the 'village with the cross on the hill'," she said.
"The older people said it was a real shame and that about 20 years ago you could see it."
Mr Ewing said he is pleased to be able to gaze up at the cross as his grandfather intended.
He said: "It was important for him to have a memorial in the village. It's an important day for everybody that we can see the cross again."