Lydd Airport inquiry may cost £150,000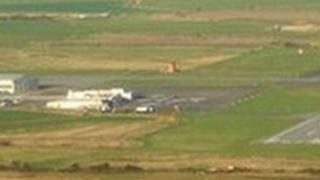 Up to £150,000 could be spent by Shepway Council on a public inquiry into plans to expand Lydd Airport.
Councillors are due to meet to decide if funds can be moved from other budget areas to pay for legal advice, staff costs and consultants.
The plans were passed by the Tory-run council in March but the Government Office for the South East decided a public inquiry must be held.
The inquiry is due to start on 15 February and sit for 16 days.
Liberal Democrat councillor Lynne Beaumont has raised concerns about the cost.
She said: "The vast majority of councillors voted against officer recommendations which forced this public inquiry. They're now putting their hands out to the council taxpayers of Shepway."
'Additional costs'
A report to go before a council meeting on Wednesday said the financial implications were "considerable" and funds had to be redirected because the money was deemed to be outside the budget.
£50,000 had already been set aside for an inquiry or a judicial review, but councillors have been asked to agree to redirect up to £100,000 from the 2010/11 general revenue budget to meet additional planning inquiry costs.
The report said Paul Brown QC would lead the council's case for fees of between £50,000 and £80,000.
The council also had to hire a staff member which would cost between £20,000 and £30,000 and costs for a specialist consultant were estimated at up to £40,000.
The total costs were said to be likely to be between £100,000 and £150,000 depending on the length of the inquiry.
Campaigners have argued the £25m expansion plan could have a negative effect on areas including Dungeness, Romney Marsh and the Rye Bay site of special scientific interest.
There were more than 12,000 objections, including from Greenpeace, the RSPB, British Energy, the Council for the Protection of Rural England, Kent Wildlife Trust and the British Hedgehog Preservation Society.