Kent Cricket Club's Canterbury ground revamp under way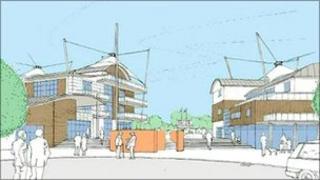 The multi-million pound overhaul of Kent County Cricket Club's facilities at its Canterbury ground has started.
The £9m development will see a hotel, health and fitness centre and conference facilities built at the St Lawrence Ground in Canterbury
Kent County Cricket Club will also upgrade its pavilion and other stands.
Chief executive officer Jamie Clifford and captain Rob Key took part in a ground breaking ceremony on Monday.
The club hopes the development will help increase its revenue.