Tonbridge High Street crash kills woman standing by car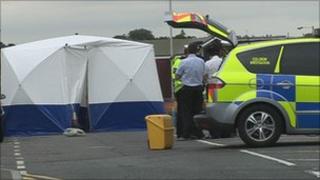 An elderly woman has been killed and another woman has been taken to hospital with serious injuries after a crash in Tonbridge involving two cars.
Police said the incident happened in Tonbridge High Street, near the railway station, at about 1120 BST on Thursday.
The crash involved two cars and two women standing near the cars, a spokeswoman for Kent Police said.
She said the elderly woman, who has not yet been named, was pronounced dead at the scene.
Emergency teams
The other woman was taken to the Kent and Sussex Hospital in Tunbridge Wells.
The High Street was closed while emergency teams dealt with the incident and was expected to remain closed until late afternoon.
Trains are running as normal from Tonbridge station, but passengers are being asked to use the side entrance.
Motorists have been asked to avoid the area if possible.
Anyone with information is asked to contact the serious collision investigation unit.