WWII Indian flying ace Squadron Leader Pujji, 92, dies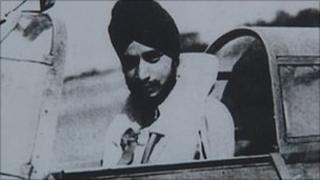 An Indian pilot who flew Hawker Hurricanes during World War II has died, it has been announced.
Squadron Leader Mahinder Singh Pujji, 92, died at at Darent Valley Hospital in Kent on Saturday following a stroke.
Sqn Ldr Pujji was believed to be the last surviving fighter pilot from a group of 24 Indians who arrived in Britain in 1940.
He survived several crashes and was awarded the Distinguished Flying Cross for services in Burma.
Wartime experiences
Sqn Ldr Pujji also flew combat missions in Britain, Europe, North Africa and the Middle East during the war.
Earlier this year he published a book about his wartimes experiences entitled, For King and Another Country.
Following the war Sqn Ldr Pujji became a champion air race pilot in India setting endurance records in gliders.
He later settled in Gravesend in Kent.