Takeaways near schools in Medway face council ban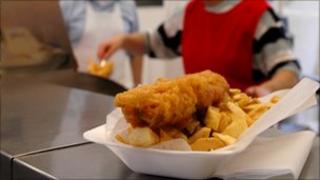 Fast-food outlets could be banned from operating near schools in Medway as part of an effort to cut child obesity.
A study of 10 to 11-year-olds in the area revealed that almost one in five was clinically obese and that more than a third were overweight.
The obesity rate among Year 6 children for 2008/9 in Medway is 19.4%, above the national average of 18.3%.
Medway Council said it wanted to restrict outlets near schools to remove the temptation to eat unhealthy food.
The obesity figures were revealed at a meeting of Medway's children and adults overview and scrutiny committee.
'Healthy start'
The statistics also showed the rate had dropped from 20.4% in 2007/08.
A spokesman for Medway Council said: "It is a priority of Medway Council and NHS Medway to ensure all children have a healthy start in life.
"We are looking into the feasibility of producing a Supplementary Planning Document that would prevent a build up of fast-food outlets near schools and a report is due to go to cabinet on Tuesday, 28 September."
In 2008 Waltham Forest Council in east London set up a 400m exclusion zone around schools, parks and youth centres to tackle child obesity, littering and anti-social behaviour following complaints from residents.