Maidstone cannabis factory raided by police in Kent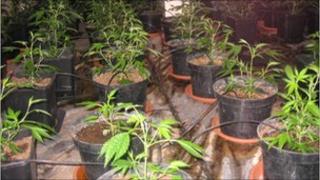 Police have raided a cannabis factory in Kent containing about 200 plants.
Officers said the plants at the property in Buckland Road, Maidstone, had a value of more than £30,000.
They also found ventilation fans and a lighting and irrigation system to cultivate the plants. There have been no arrests.
A report by the Association of Chief Police Officers in August revealed a total of 6,886 factories were found in the UK between 2009/10.