Kent postmaster defends hitting intruder with hammer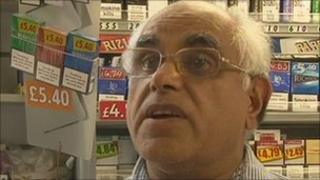 A Gillingham postmaster who fought off a would-be-robber with a hammer has said he would do the same again.
Saeed Khan, 62, was alone in his shop in Byron Road when a man armed with a knife entered and demanded money.
Mr Khan said he had kept a hammer near the counter to protect himself after his shop was targeted last month.
He said: "I hit him on his arm, but then he tried to come closer so I raised the hammer again and that's when he ran off."
Mr Khan, who has run the post office for 27 years, said he believed the same man was involved on both occasions.
'Protecting myself'
He said: "Due to the previous incident we were keeping a hammer close by to protect myself.
"Once I hit him that's when I was scared what he was going to do next but luckily he ran off.
"I was just protecting myself because he had the knife again and I was scared.
"In that moment I was not thinking about anything else. I'd do the same, if I get a chance."
Kent Police have appealed for information on the attempted robbery, which happened at midday on Friday.
Det Insp Ann Lisseman said: "(Mr Khan) was very brave but I wouldn't advise that people make use of weapons nearby or try and physically challenge offenders."