Catalytic converters worth £50,000 stolen in Ashford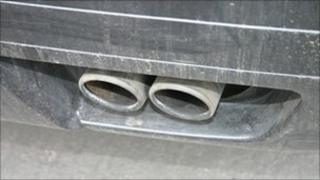 Catalytic converters worth nearly £50,000 have been stolen during a spate of thefts in a Kent town.
Kent Police said a total of 20 vehicles had been targeted in Ashford since the beginning of September.
In one incident thieves stole catalytic converters worth £40,000 from 13 vans on the Ellingham Industrial Estate in Ellingham Way.
The force has urged owners to review their security arrangements to put off would-be thieves.
'Well-lit areas'
Crime reduction officer Jill Lane said: "A thief can't get to your catalytic converter if they can't get to your car.
"If possible always park your vehicle in a garage. However if you are not able to do this, park in well-lit areas at night and try to park close to buildings.
"If your car is isolated, it makes it easier for a thief to crawl under the car and saw the converter off, which can be done in seconds."
She added: "Take a few minutes to review your vehicle parking and how your vehicle can be made a less attractive option for a-would be thief."