Margate couple jailed for abusing boys under four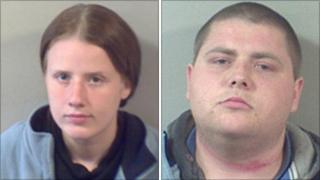 A Kent couple have been jailed for two years for abusing two young boys.
Kristina Davies, 20, and Ricky Winter, 23, had both denied eight counts of child neglect but were found guilty at Canterbury Crown Court last month.
The couple, both from Margate, left the children with fractured bones, bruises and bites to the genitals when they were looking after them in July 2009.
A doctor who treated the boys, both under four, said it was the worst case he had seen in 30 years of practice.
'Tip of the iceberg'
Davies and Winter, both of Canterbury Road, also forced the children to stand in a corner with their hands on their heads for long periods of time and screamed in their faces on several occasions, the court heard.
After the hearing, Acting Det Sgt Paul Deslandes, who led the investigation, said: "This was a particularly harrowing case and the children suffered truly sickening injuries."
He said the force's child abuse investigation unit acted after hearing concerns from members of the public about the boys' welfare.
"Together with social services, we took the children away from a dangerous situation and prevented them from coming to any further harm," he said.
And the head of the helpline run by the National Society for the Prevention of Cruelty to Children (NSPCC), John Cameron, said: "These defenceless young children have suffered terrible neglect at the hands of those who were meant to care for them.
"Sadly, the cruelty these little boys have suffered is not unique.
"Neglect makes up nearly half of all child protection cases known to the authorities, and this is just the tip of the iceberg."
He added: "Though many people do call us to report children being neglected, there are others who don't act on their suspicions.
"Young children can't get help for themselves. You could be their only hope."