Bronze Age gold bracelets found in east Kent dig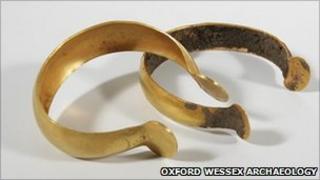 Two gold Bronze Age bracelets have been uncovered during an archaeological dig in east Kent.
They were among 10,000 items unearthed between Ramsgate and Sandwich, ahead of the building of the new East Kent Access Road.
The bracelets, dating from 700 BC, were found by Kent County Council principal archaeological officer Simon Mason on top of earth dug from a trench.
"It was incredible... they looked too good to be real," he said.
"They were quite tarnished to start with.
"When we washed them and cleaned them we realised they were something special."
It is thought they were children's bracelets that may have been a worship offering, placed near to water.
They were found together, one pushed inside the other.
Archaeologists have found evidence of a Bronze Age settlement on the find site, and five hoards of bronze objects of a similar age to the bracelets have been found in the same area.
"Their real value to me as an archaeologist though is how they contribute to the story we are putting together from our excavations on the road," Mr Mason said.
"With all the thousands of everyday objects we have dug up they are really helping to shed new light on the lives of prehistoric, Roman and Saxon people in Thanet."
Horse burial
The bracelets are being kept secure by Oxford Wessex Archaeology until they can be declared treasure by the North East Kent Coroner.
It is hoped they will be put on display locally in future.
The dig has yielded a vast array of objects from every period, from prehistoric times to World War II.
Other finds include a clay beaker in a Bronze Age grave on a ridge high above the site.
In another grave was a mystery bronze object with a Saxon cross, and there was also an Iron Age horse burial.
Archaeologists have been sharing the findings with local schools and residents, staging open days, roadshows and leading guided tours of their work.