Views aired over Maidstone to Pembury maternity move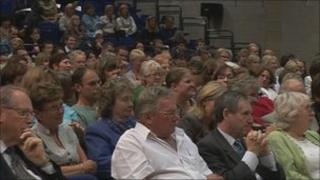 Health managers have told campaigners against planned changes to maternity services in Kent that a decision will be made within the next month.
At a public meeting on Thursday, they defended their decision to move maternity consultants from Maidstone Hospital to the new Pembury Hospital.
If the proposals go ahead, Maidstone would be left with just a midwife-led birthing unit.
Campaigners said it meant the lives of mothers and babies would be endangered.
One woman told the meeting her daughters "could have been without a mother" if she had been forced to travel to Pembury, and not undergone specialist care while in labour at Maidstone Hospital.
Speaking after the meeting, another member of the audience said it was "pretty unanimous that we don't want this change to take place. They've said that we have the final say, and we've had the final say".
Dr Wilson Bolsover, a consultant paediatrician with the Maidstone and Tunbridge Wells NHS Trust, in charge of reorganising maternity services in west Kent, said he recognised that there was a lot of concern about the journey from Maidstone to Pembury.
Birth 'choice'
"But the journey time is half an hour, and that's regarded by very many people nationally as a reasonable time to travel to hospital."
Dr Bolsover stressed that women would have a choice as to whether to have their baby at the birthing unit, where there would be no paediatricians or obstetricians, or at Pembury Hospital.
The government has ordered a review into the changes, asking the NHS to work with local people to try to resolve any concerns they have.
A report is due to be given to the Health Secretary, Andrew Lansley, by the end of this month.