Kent County Council 'could save £400m without cuts'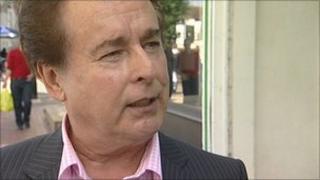 A former Kent County council (KCC) chief has said the authority could save £400m without cutting services such as education, transport, or social care.
Peter Gilroy, who stepped down in May after six years in the job, was taking part in a BBC debate on the economy.
The government has asked the public sector to prepare for cuts of between 25% and 40% in a spending review.
KCC's current leader, Councillor Paul Carter, said the authority had already saved £110m over the past three years.
Mr Gilroy said KCC could make most of the £400m savings without having to make cuts to transport, education or social services.
He said reforms to how people were assessed in areas such as housing benefit and social care could save £200m alone.
"You can have as many as 30 people visit your house," he said.
"That's got to be swept away, and that's both national and local.
"On assessment policy alone, we could potentially save the public sector about £200m a year just in Kent. So there are things you can do.
"It's not simply attacking highways, attacking education, or attacking those things. You've really got to go to the back office."
'Political environment'
The former KCC chief, who was also director of social services for eight years, said he tried to make changes while he was at the authority.
He said: "We were saving 3% a year in efficiency savings, but remember I'm in a political environment.
"As a chief executive, I don't have absolute power. So whatever ideas you pursue, you've got to set that in the context of political courage and leadership."
Mr Gilroy also said KCC had a core group of members that were "very dynamic" and had been "brave" and "innovative".
But he added: "You are in a political environment and politicians get worried about being re-elected, they get worried about the media.
"I think the jury's out at the moment as to whether or not there's sufficient political energy and focus and courage both nationally and locally to see this through."
Mr Carter, who was also at the debate, said: "We were the top-performing county authority in the country, and we're very proud of that reputation.
"We have taken £110m of real money out of our budget over the past three years."
He added: "The ask now is to take another 25% of our controllable budgets over the next three years which is going to be extreme pain, but we've been on a journey of delivering a much more effective and efficient local government and I think local government has transformed itself.
"The problem has been that we've had to do so many more responsibilities because national government has told us that we have to."
But he said many well-intended government initiatives were disappearing and the council would now have the freedom and flexibility to do less and make better use of taxpayers' money.