Schools across Kent told to borrow books from libraries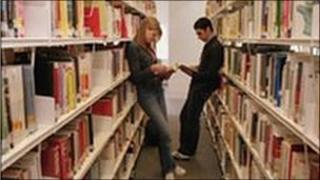 Schools in Kent have been told by the county council that they will have to borrow books from local libraries.
Under the scheme, teachers will be able to borrow 100 books for eight weeks free of charge for students.
It replaces the Kent Schools Library Advisory Service, which allowed staff to pre-order and collect books.
Kent County Council said the Advisory Service was impractical as schools had to pay for it and had to travel long distances to get the books.
'Enough stock'
However, campaigners have expressed concern that already-stretched library branches will be unable to cope with the extra demands from teachers.
Mary Priestley, head teacher of Woodlands Junior School in Tonbridge, said local libraries did not carry sufficient stock.
"If that's going to work they [libraries] would have to dramatically increase the stock of non-fiction titles," she said.
But KCC spokesman Mike Hill said the new scheme would work as all libraries in Kent were linked together.
"If a class has a particular requirement...we will acquire it from our central resources and provide it," he said.