Love Music, Hate Racism festival in Margate to go ahead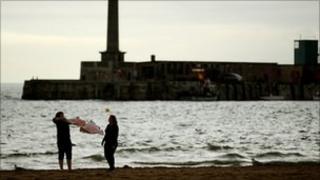 A free anti-racism music festival in Margate will go ahead despite a setback in the run-up to the event, organisers have said.
The Love Music, Hate Racism festival was thrown into doubt when its hired stage was damaged in strong winds.
The stage, being hired from the Margate Town Partnership, was damaged when being used for an outdoor charity concert in Kingsgate on 30 August.
Organiser Bunny Laroche said a replacement stage had now been found.
He said: "We were desperate to find a stage to ensure the festival goes ahead.
"Then at literally the last gasp we found a Kent-based company who could help.
"A couple of hours later a new stage was booked, and it's bigger and better too."
A wide range of performers will play at the concert on Margate seafront from midday on Saturday.