HMS Cavalier wins lottery prize for Chatham dockyard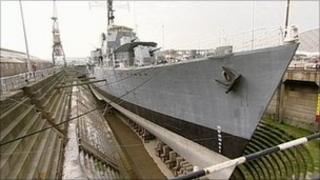 A restored World War II destroyer on display in dry dock in Chatham has been named the best education project in the 2010 National Lottery Awards.
HMS Cavalier was bought and restored as the National Destroyer Memorial by Chatham's Historic Dockyard with the help of a £490,000 lottery grant.
A £2,000 cash prize goes to the ship funds following the announcement of the award on Saturday night.
HMS Cavalier is the focus of several learning projects at the Kent dockyard.
Children can stay on board overnight to experience something of life on board a World War II vessel.
The memorial, alongside a commissioned monument of public art, is dedicated to the 11,000 sailors and 143 British destroyers which were lost at sea during World War II.