AXA to move away from Tunbridge Wells in offices row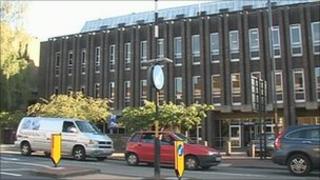 One of the largest employers in a Kent town has said it will move business away because of a row with the borough council over office space.
AXA Insurance has 1,900 staff in Tunbridge Wells and was hoping to employ 800 more but the council has bought what AXA considers the only suitable space.
The council announced in July it had bought the Land Registry building.
It refused to confirm it would move town hall staff to Forest Road.
But the council's town centre site, which is also occupied by Tunbridge Wells Assembly Hall, the library and museum, is under review.
The council wants to attract more retailers to the town and has said the current council site is the only possible location for development.
'Retail friendly'
The Land Registry site was not put on the open market by the government. The council is to buy it with a loan from the Public Works Loans Board.
AXA operations director David Clarke said that trust between the company and the council had broken down.
"We feel that Tunbridge Wells has become very retail friendly but not so much business friendly," he said.
"We are looking at other areas now, which does mean we will start to migrate some areas away from Tunbridge Wells."
Leader of the council Roy Bullock said it would be concerned if AXA pulled out of the town.
"They have never given us any indication that they intended to remove their current operation and the size of their operation from Tunbridge Wells to elsewhere," he said.
"If they are saying that now that seems to be something we need to explore with them."