Kent campaigner launches petition to 'save' Gurkhas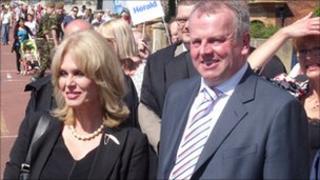 A campaigner who fought for the right of former Gurkhas to settle in the UK has launched a petition to defend the regiment from defence cuts.
Peter Carroll said he did not want to see the Gurkhas "sacrificed" following speculation that they were vulnerable in the government's spending review.
Mr Carroll, a councillor in Folkestone, Kent, where the Royal Gurkha Rifles are based, led Joanna Lumley's campaign.
The Ministry of Defence (MoD) has said speculation on the review is unfounded.
The government's strategic defence and security review (SDSR) is due to report in October.
Defence Secretary Liam Fox has already said the defence budget is not immune from cuts with annual reductions of between 10% and 20% expected.
Conservative MP Patrick Mercer, a former Army officer, has said the Gurkhas, part of the British Army for 200 years, could be at risk.
Mr Carroll has called on the British public to sign the petition.
"I think there's a view in the community that why should we sacrifice something that's been of enormous value to us for about 200 years because of a short-term financial crisis?" he said.
"It's too easy to end up throwing things away but it's a false economy that would be very damaging for the British Army, for Britain and for Nepal.
"I think the vast majority of people in Britain have an affinity with the Gurkhas and if they throw that away people will be very much aggrieved."
Last year, after a lengthy battle fought by Ms Lumley and Mr Carroll, MPs abandoned rules that prevented retired Gurkhas from settling in the UK.
But Ms Lumley's agent said she had no plans to add her voice to the new campaign as she will be in New York for the next six months, performing in the play La Bete on Broadway.
The MoD said: "The Defence Secretary has made clear that tough decisions will need to be made but the complex process of a Strategic Defence and Security Review will be concluded in the autumn.
"Speculation at this stage about its outcome is entirely unfounded."