New Royal Mail sorting office threatens 400 Kent jobs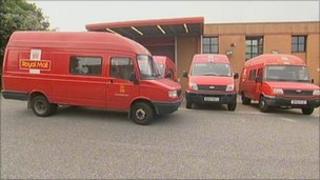 Plans to modernise postal services in Kent could lead to 400 job cuts and the closure of four sorting offices.
Royal Mail wants to build a "super sorting office" on a derelict site in Strood which would be big enough to take new technology to sort mail.
If the plans go ahead, Royal Mail centres would close in Canterbury, Maidstone, Dartford and Tonbridge.
Dave Banbury, from the Kent branch of the postal workers' union, the CWU, said the plans were bad for morale.
"It's a completely depressing time at the moment for people in the Royal Mail... morale is really low," he said.
Royal Mail, which currently employs about 3,700 workers in Kent, has said the existing offices are more than 25 years old and do not fit in with its plans for the future.
It said it hoped to avoid compulsory redundancies but said 400 jobs could go.
The new centre, which could be operational by the spring of 2012, would be close to the motorway and railway networks.