Isle of Sheppey anger over Sittingbourne court closure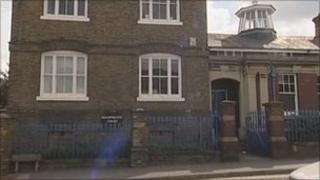 Plans to close a Kent court will leave one of the county's most socially-deprived areas with reduced access to justice, residents have said.
Sittingbourne Magistrates' Court is among 103 in England and Wales earmarked for closure in a proposal from the Ministry of Justice (MoJ).
The court serves the Isle of Sheppey, but the map published in the MoJ document does not show the island.
An MoJ spokeswoman said it was committed to supporting local justice.
MP for Sittingbourne and Sheppey, Gordon Henderson, said the closure of Sittingbourne court would mean Sheppey residents travelling to court at Canterbury or Medway.
The would take longer than the 60 minutes stipulated as a requirement in the MoJ document.
"They have determined travelling times from Sittingbourne to either Medway or Canterbury," he said.
"What they haven't taken into account is that people who live at the very extreme end of Sheppey will take up to an hour by public transport just to get to Sittingbourne."
Lynda Jones, deputy chairman of Central Kent Magistrates, said justice would move further out of reach for the people of Sheppey.
"The longer that defendants have to travel the more likely you are going to get non attendance," she said.
"This will involve the police in more warrants for arrest - we are talking about vulnerable people having to travel far."
The consultation on the proposed court closures ends on 15 September.
"Accessibility for court users is, of course, an important factor," said the MoJ spokeswoman.
"Local communities should not ordinarily have to make excessively long or difficult journeys to attend court, but we should recognise the infrequency with which most people need to visit a court."