Thanet least resilient to economic woe, research finds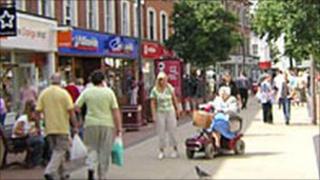 Research suggests wide variations in the ability of parts of Kent to weather future economic storms.
The BBC-commissioned study, carried out by Experian, ranks the resilience of council areas to shocks such as public sector cuts.
Tunbridge Wells has lots of high-growth sector firms, self-employment and low dependence on vulnerable sectors.
Whereas Thanet has few high growth sector industries and few people employed in resilient sectors.
The working age population is small by comparison with other areas in the region and people have low earnings.
The government will announce its spending review results in the autumn.
The researchers looked at data for 324 English district and unitary authorities across four broad areas - business, people, place and community.
It does not predict where cuts will fall but suggests the local authority areas which could have the best chance of a quick recovery.
Overall Tunbridge Wells is ranked the 27th most resilient local authority area in England, whereas Thanet is 295th.
Phil Wood, the regional secretary of Unison South East, said the outcome was not a surprise.
He said: "Thanet and Hastings (in Sussex) for instance have had to be the subject of a great deal of work over past years and have relied on public spending to do this.
"Hastings is particularly sad as the measures which have been put in place had started to have an impact.
"Withdrawing this support will certainly bring a double dip in these areas."
Mr Wood added: "There are of course differences between communities within council areas as well as between them.
"Tunbridge Wells has some very wealthy people and hidden within them some very poor."
The economy will be debated on BBC Radio Kent at 0900 BST on Friday.