First purple herons at RSPB Dungeness site fly the nest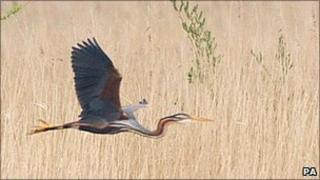 A pair of chicks thought to be the first pair of purple herons to breed in the UK have flown the nest.
The Royal Society for the Protection of Birds (RSPB) said the chicks were seen at the charity's nature reserve in Dungeness learning to fly.
Volunteer Philip Eglise said the birds were now thought to have left the site.
A round-the-clock species protection scheme was set up at the end of April after first signs that the herons were nesting at the site.
Mr Eglise, who was on watch at the nature reserve, said: "The day after we first saw the chick out of the nest I saw it flying with the adult male around his favourite feeding location.
'Migrate away'
"It seemed to be struggling to fly in the strong winds.
"Two days later a fledgling was seen in very clear view for over an hour feeding alone along the edge of a reed bed.
"It was successfully catching numerous small fish without any parental assistance."
Mr Eglise said it is not unusual for fledglings to migrate away from their nesting location when fully independent.
The purple heron is closely related to the larger and widespread grey heron and can reach 35in (90cm) in height with a wingspan of up to 60in (150cm).
According to the RSPB, purple herons have been struggling in Europe over the past few decades, and are expected to be seen more in the south of England as climate change pushes them north.