Kent police chief warns force could face 1,500 job cuts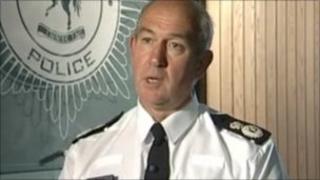 Staff and officers with Kent Police have been told that up to 1,500 jobs could be lost as a result of spending cuts expected over the next four years.
Chief Constable Ian Learmonth said £53m could go from the Kent budget in expected spending cuts of up to 20% to be announced this autumn.
It could mean up to 1,000 civilian jobs and 500 police posts being cut.
Unison spokesman Peter Saville said: "I am absolutely appalled. The people of Kent will obviously suffer."
Mr Learmonth said he hoped most job losses would be through natural wastage and retirement.
The Home Office has already warned police forces in England and Wales to expect funding cuts in the government's Comprehensive Spending Review.
As well as pointing out the consequences of the review to staff, Mr Learmonth has written to Kent's MPs.
'Very sensitive area'
He said the challenges facing police forces across the country were unprecedented in his 36 years of service.
"All areas of the force's business and budget are being examined," he said.
"Clearly this is a very sensitive area for everyone and we must never lose sight of the fact we are dealing with people's jobs and people's lives."
Kent currently has 3,728 police officers and 2,932 civilian staff.
In July, nearly 200 people expecting to begin training as recruits were told their places had been cancelled because of the spending cuts.
Mr Learmonth said the force was working on a new police model to safeguard the "frontline" and focus on cutting crime and reducing the risk of harm to the public.
Service concerns
Plans are to be finalised after the results of the spending review are announced.
"Kent has a unique role in British policing because of our frontier with Europe," Mr Learmonth said.
"Whatever changes take place I am determined that we will maintain the same high quality of service and standards of professionalism."
Chairman of Kent Police Federation, Ian Pointon, said he believed 1,500 job losses would have an impact on policing.
"It depends on how you classify frontline services," he said.
"Frontline services are about people who deal with victims of domestic violence, people who keep track of paedophiles, undercover officers and surveillance officers.
"It is people who investigate murders and crime.
"Once you try to take 500 people out of that, something's got to give."
Mark Reckless, the Conservative MP for Rochester and Strood, said: "In the past few years many of my constituents have lost their jobs, many have had pay freezes or pay cuts.
"I am pleased to say that the coalition government has honoured the pay settlements of the police and they have seen their pay go up by more than 2.5% this year.
"I do think savings need to be made. One element of that is numbers and the other is pay and pensions."