Man jailed over Kent armed robberies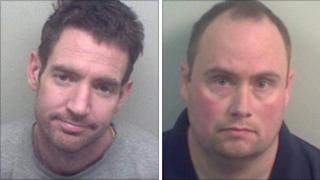 A man has been jailed for 15 years after carrying out a series of raids at betting shops and banks across Kent.
Gary McMeekin, 35, of Kingswear Gardens, Strood, admitted to eight robberies and eight firearms offences at Maidstone Crown Court.
The court heard the raids all took place within a five-month period from 29 November 2009 to 9 April 2010.
Robert Blackburn, 30, of Copperhouse Road, Rochester, was jailed for four years after being involved in one raid.
'Terrifying staff'
He admitted to being involved in a robbery at Lloyds TSB bank in Perry Street, Northfleet, on 9 April this year.
Police said Blackburn drove a car to transport McMeekin to and from the crime.
The amounts of cash stolen ranged from £77 taken from William Hill bookmakers in Strood High Street, in January, to £7,500 in the Northfleet raid this year.
McMeekin also asked for 12 offences to be taken into consideration, four of which were robbery. The other offences included theft and possession of drugs.
Crown Advocate Jane Scotchmer said: "McMeekin was the main man who thought nothing of terrifying the bookmakers' staff in pursuit of money.
"He brandished what looked like a gun in a plastic bag and pointed the gun directly at the staff to ensure he could get the maximum amount of money from them."
Det Insp Ann Lisseman said the crimes were "calculated and planned offences which put a number of people in fear of their lives".
She added: "The confidence that McMeekin showed to carry out these robberies was astounding, but ultimately he has paid the price."