Tunbridge Wells theatre could make way for shops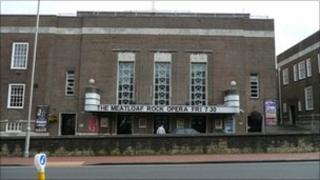 A Kent theatre used for large touring productions, concerts and pantomimes could be closed to make way for shops under a council redevelopment plan.
The town centre site occupied by Tunbridge Wells Assembly Hall, along with the town hall, library and museum, is under review by the borough council.
Leader Roy Bullock said the town hall site was the only suitable land for retail development in the town.
"But there are no plans to relocate anything at the moment," he added.
Chairman of the Royal Tunbridge Wells Symphony Orchestra, Ralph Hebditch, said it would be a disaster if the town lost its cultural centre.
"It's the theatre, it's the museum, it's the library, it's the art gallery," he said.
"If all that disappeared we would have no arts, culture or leisure facilities for so many people."
'Not punching weight'
The council is looking at the future of Tunbridge Wells along with those of Southborough, Paddock Wood and Cranbrook town centres.
It said last month that it had provisionally agreed to buy the town's Land Registry building when it becomes vacant next year, but refused to confirm that it would move its offices to Forest Road.
"All the evidence indicates that Tunbridge Wells is not punching its weight in the South East," said Mr Bullock.
"It is losing footfall to Maidstone, Bluewater and Croydon.
"We have to increase the retail offer in the town centre and the only possible site seems to be the town hall site."
He said the council expected to begin a consultation on any possible plans in October or November.