Union in row over privatising Port of Dover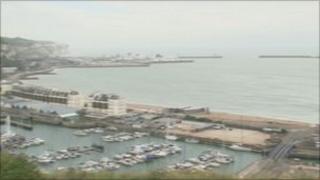 A row has blown up over the future of the Port of Dover between union leaders and the port board, which wants it to be privatised.
The Unite union said privatising the Kent port would be disastrous and against the national interest.
But the Port of Dover said the union had failed to grasp the the driving force behind the scheme, which would benefit the UK economy.
A public consultation on the privatisation plans ended on Friday.
It is the second consultation on the plans, which were revealed by the Port of Dover in January.
The application to the government to sell the port, estimated to be worth £300m, would end its 400-year-old status as a trust.
The coalition government ordered the second consultation in July, and ordered the board to publish more information.
"The proposed privatisation of Dover is against the national interest. It is a disastrous idea and should proceed no further," said Unite officer Julia Long.
"The UK is an island nation. We need a first class sea port like Dover to be in public hands.
"There is simply too much at stake to leave the running of this vital link to Europe in the hands of those who will milk this national treasure for profits at the expense of the travelling public and British commerce."
'Increase in traffic'
The Port of Dover said the scheme being considered by the Department for Transport was "entirely for the long-term benefit of UK transport and the UK economy".
"As a trust port, the Port of Dover is unable to finance significant additional capacity when required as its status as a public corporation does not allow it to borrow," it said.
"This will have the ultimate effect of the port being unable in the longer term to handle the increase in traffic forecast over the next 30 years."
Conservative MP for Dover and Deal, Charlie Elphicke, has proposed that Dover becomes a "people's port" owned by the community.
"In very simple terms, a community trust is set up," he said.
"Anyone can join who lives in the Dover area and is prepared to pay a tenner, the community then raises the money in the markets and buys the port."
The government is expected to make a decision on the privatisation in the autumn.