Council 'under no pressure' over Gravesend development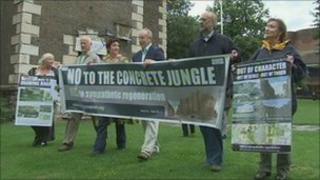 Campaigners fighting the redevelopment of a Kent town centre have been told councillors are under no financial pressure to approve the scheme.
About 300 people are expected at the Woodville Halls theatre in Gravesend when the £120m Heritage Quarter development is discussed next month.
Council leader Mike Snelling has previously said walking away from the scheme could bankrupt the authority.
But he said on Thursday the decision would be made only on planning grounds.
The planning application by developer Edinburgh House includes 400 flats, a hotel, restaurant and leisure facilities, shops and offices.
Council land
It also has a new town square, 1,000 parking spaces, improvements to St Andrews Gardens and the river walkway and new community facilities.
The council has a legally binding agreement with the developer, signed in 2007, committing the land to the scheme.
Mr Snelling said reneging on the agreement could potentially bankrupt the authority because the developer could take legal action to recover its costs of £4m.
But the agreement is subject to the planning process, so councillors are free to turn the application down.
'Too bold'
Campaign group Urban Gravesham has been fighting the plan.
"It's too big, it's too bold and it's not in keeping with the architecture here," said Claire Brown.
"Historically, there were houses here, not flats."
Fellow protester Sue Couves said: "We are very fortunate in Gravesend to have the River Thames and we feel that should be reflected in any regeneration proposed for the town.
"Blocking it off with big blocks of concrete buildings and flats is not going to be the answer."
Mr Snelling said the aesthetics of the scheme were a matter of personal choice.
"I think the basic mixture of residential units with enhanced shopping facilities - with a lot of enhanced public realm - is right."