Gorilla celebrates 50th birthday at Howletts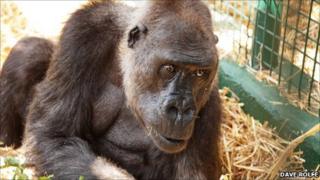 A gorilla at a Kent wild animal park has celebrated her 50th birthday and is now thought to be one of the oldest of her kind worldwide.
Mouila, a Western lowland gorilla at Howletts Wild Animal Park, is now a grandmother and has had eight offspring of her own.
Head gorilla keeper Lorna Wanless said Mouila was born in 1960 and in human years would be about 100 years old.
Keepers made birthday gifts containing treats for the gorillas to find.
'Happy growling'
Ms Wanless, who has worked with Mouila for 11 years, said: "She is the head female in the group and is certainly a strong character.
"She is a pleasure to work with and has had a lot of babies which is a big help towards conserving this critically-endangered species."
The birthday presents given to the group were filled with straw and treats.
Keepers said the gorillas started making a deep "growling" sound, which indicated they were happy, when the boxes were taken to their enclosure.
As soon as the doors to the enclosure were opened, the gorillas ran to the boxes and the younger animals grabbed two or three at a time.
The boxes kept the group busy for an afternoon while they searched for missed treats and played with the remains of the presents, keepers said.
They said Mouila took a more "relaxed approach", letting the other gorillas enjoy the party while she enjoyed a handful of beans and herbs.
Three of Mouila's sons are in the bachelor group at Port Lympne safari park, in Kent, one son has gone to be the breeding male at Twycross Zoo, in Leicestershire, and some of her daughters have travelled to breeding programmes overseas.
Mouila is now thought to be the oldest Western lowland gorilla in the UK and one of the oldest of her kind worldwide, Howletts said.