Channel swimmer sets slowest record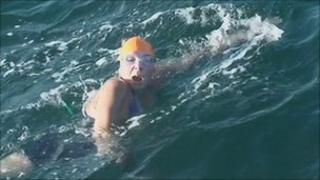 A 56-year-old woman has unintentionally beaten the record for the slowest solo swim because tides held her up as she crossed the English Channel.
Jackie Cobell thought she would swim 21 miles (34km) but swam 65 miles (105km) in 28 hours and 44 minutes.
She has beaten the previous record for the longest solo swim - 26 hours and 50 minutes set by Henry Sullivan in 1923.
The Kent mother-of-two set out on the swim to raise money for charity and had aimed to do it in 18-20 hours.
She said: "When you are in the water without a watch you lose sense of where you are."
Mrs Cobell added: "I kept thinking I'm nearly there, as I could see the beach, but I kept getting taken away by the tide."
Mrs Cobell, from Five Oak Green near Tonbridge, had not taken into account the difficulties the tides would present.
"I'm always up for a challenge and always like to do something a bit different. I wouldn't mind doing the Alcatraz swim next," she added.
"They've got sharks there so it might make me go a bit quicker," she said.
Her husband David said his wife did not set out to break a record but had just set out to cross the Channel.
'Extremely proud'
"She was doing it for a good cause and I'm very proud of her," he said.
"The reason why she is a record-breaker is because she kept going.
"There are lots of swimmers out there who would give up after 24 hours or so and say they've had enough. But Jackie kept going and for that I'm extremely proud."
Mrs Cobell, who is mother to 32-year-old Sarah and Victoria, 30, as well as three teenage foster children, started training five years ago for her challenge, spending 20 hours a week swimming in her local pool, in lakes and in the sea.
She set off from Shakespeare Beach in Dover on Saturday at 0640 BST.
The swim raised nearly £2,000 for the Huntington's Disease Association.