Coastal water lift on Folkestone cliffs reopened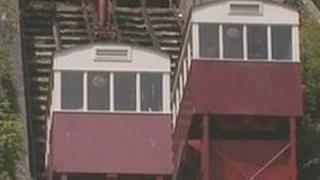 A Victorian water-powered lift in Folkestone which closed last year has reopened following restoration work.
The Grade II-listed Leas Lift on cliffs was built in 1885 and carried passengers for the last time on 30 June after Shepway council's lease ran out.
It is one of the oldest water lifts in the UK and transported people between the seafront and the promenade.
Residents have formed the Folkestone Leas Lift Community Interest company to manage the attraction.
They hope enough people will use the lift to travel between the town centre and the beach for it to make a profit.
The lift was closed in June 2009 after the Shepway District Council decided it was too expensive to run.