More time for Port of Dover sell-off consultation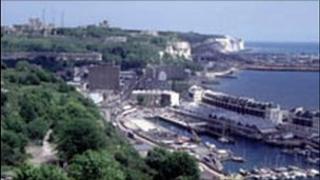 The government has ordered a further public consultation into controversial plans to privatise the Port of Dover.
The shipping minister, Mike Penning, has asked Dover Harbour Board to publish additional information about its plans, outlined earlier this year.
Members of the public will then have until 27 August to give their views.
It follows a bitter row between port bosses and the ferry companies, who described talks with managers at the port as a "meaningless waste of time".
SeaFrance, P&O and Norfolkline have claimed £60m they provided to fund a second terminal at the port of Dover will have been wasted if the sell-off goes ahead.
An eight-week consultation into the proposals has already been held.
Mr Penning said: "The consultation that was done before the general election meant that this very important port, that has asked to go to voluntary privatisation, needs to make sure that everybody understands what... is likely to happen.
"And I thought that the information wasn't fully out there, so I've given more opportunities for everybody - the port owners, operators, the local community - to come forward with their ideas as for the future of the port."
He added: "I want the right decision for the people of Dover and for the country."
The Port of Dover said it welcomed the announcement by Mr Penning.
"We are committed to consulting seriously and thoroughly throughout the ongoing restructuring process and this latest representation period fits perfectly with that commitment," said chief executive, Bob Goldfield.
He added: "The momentum for change is building and we now have the chance to explain further how we really can achieve positive change through a credible proposal that can work for everyone."