Father recovers after adder bite at Kent country park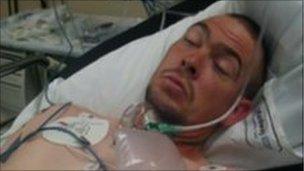 A man was left fighting for his life after being bitten by an adder during a walk with his family at a country park.
Matthew Popov, 31, was taken to hospital in a critical condition after he was bitten at the Riverside Country Park in Rainham, Kent.
The 31-year-old's fingers swelled to twice their normal size, his vision went and he was gasping for breath.
The scaffolder, from Frindsbury near Strood, was stabilised with an antidote at the Medway Maritime Hospital.
Mr Popov had been enjoying a stroll with his wife and two children on Sunday when he saw his six-year-old son, Matthew, reach for something.
When he saw it was a snake, he tried to pick it up and move it to the side of the path.
His wife, Amee, 27, said: "Within a matter of seconds, everything went down hill.
"His vision went and his breathing was bad. He said, 'You are going to have to take me to hospital' and then his vision went completely."
Doctors at the Medway Maritime Hospital administered emergency aid to counteract the venomous bite.
Mrs Popov said: "One of the nurses said she had never seen anything like it before in her life.
"I was absolutely in pieces. I did not realise the severity of it until the doctors came out and said 'we nearly lost him'."
Mrs Popov praised the hospital staff for saving her husband's life and said the consequences could have been worse if her son had been bitten. He has since been discharged from hospital.
She said she would like to see signs put up in the park warning the public about the presence of adders.
A Medway Council spokesman said the park was visited by 350,000 people a year and there have been four incidents of adder bites in the past 14 years.
He said: "We are very pleased to hear that this man has made a full recovery.
"We do not feel it would be appropriate to put signs up for adders as there is no greater danger at Riverside than at anywhere else.
"We would advise people who are not trained to deal with snakes not to pick them up or attempt to move them."
The adder, which is a protected species, is the only venomous snake native to Britain but no-one has died from a bite for more than 20 years, according to the Forestry Commission.
Related Internet Links
The BBC is not responsible for the content of external sites.