Stars back campaign for Medway's 2012 city status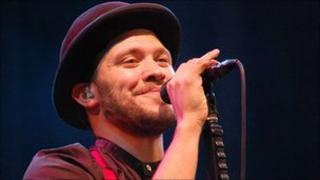 Pop star Will Young, dance act Diversity and rock band Status Quo have all backed the Medway towns' campaign for city status in 2012.
The artists all signed special pennants showing their support for the bid after performing concerts at Rochester Castle Gardens.
The campaign brings together the Medway towns of Rochester, Strood, Chatham, Gillingham and Rainham.
Medway made two unsuccessful bids for city status in 2000 and 2002.
Council leader Rodney Chambers said: "I am pleased that so many of the big names that appeared at our castle concerts signed our pennants and showed their support for Medway's city bid.
"I wouldn't be surprised that when visiting Medway they, like other visitors, find it hard to believe that it isn't a city already.
"After all, we are the largest conurbation in the South East and have all the things you would expect in a city. I would say that we are really already one in all but name."
Mr Chambers also urged people to write on bunting flags, which are available at local events, what Medway means to them, and return them to the council.