Council to buy Land Registry site in Tunbridge Wells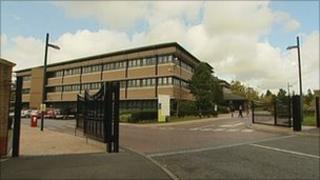 Tunbridge Wells council has provisionally agreed to buy the town's Land Registry building when it becomes vacant next year.
It said it would enable the council to bring services under one roof, but has refused to confirm if it will vacate the town hall and move to Forest Road.
The Land Registry announced it would close the Tunbridge Wells office along with two others.
The borough council has not disclosed the purchase price for the premises.
But it said it would be funded by a loan from the Public Works Loans Board, which would be repaid through income generated from tenants.
'No decision'
"Some people will regard this as being in effect a decision to vacate the town hall," the borough council said in a statement.
"This is categorically not true.
"No decision has been made on the future of the town hall and any such decision will be subject to public consultation."
Leader of the council Roy Bullock said buying the Land Registry building would help reduce costs by more flexible working and sharing facilities.
"Clearly the purchase will be subject to the usual negotiations and procedures but I am very optimistic that this acquisition will deliver savings and better customer service," he said.
The closure of the Land Registry, with others in Portsmouth and Stevenage, will mean a loss of 1,000 jobs.